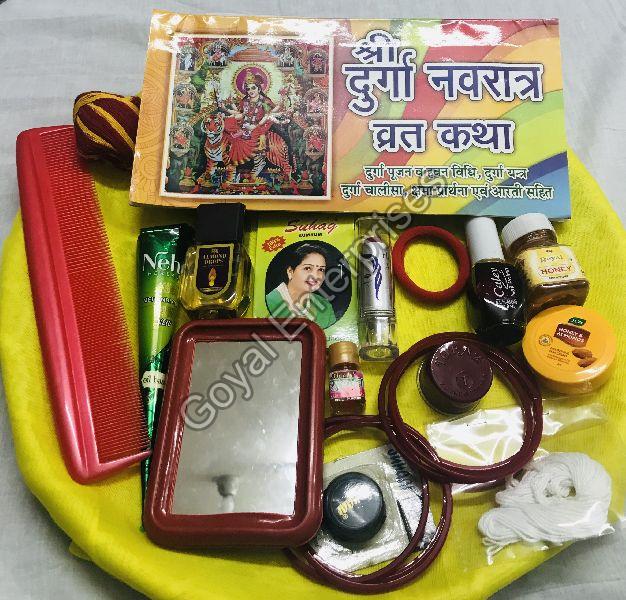 Navaratri is a famous Hindu festival observed in honour of the goddess Durga. Navarati is celebrated over nine nights. Several Hindu people worldwide celebrate Navaratri with great respect and integrity.
The celebration process of Navaratri may be different for different people. Hindu people worship nine other forms of Devi Durga during these nine days. Stage decoration and chanting of different Hindu scripts are part of this festival. Many Hindu devotees perform Navaratri through fasting.
Essential Equipment for Navaratri Pooja
If you choose an authentic Navaratri pooja kit manufacturer for buying essential pooja accessories for Kalash Sthapana, you will get huge benefits-
• A copper, silver, bronze, and brass Kalash is essential to Navaratri pooja. Do not use steel or plastic Kalash.
• Whole brown coconut with its husk
• Mango leaves or betel leaves
• Kumkum
• Chandan
• Haldi
• An earthen tray
• Brown soil or clay
Essential Pooja Equipment for Pooja of Nav Durga
You can buy a few essential pieces of equipment for the nav Durga puja as follows-
1. Fresh unused pieces of red cloth
2. Shringar items include sindoor, Mehendi, kajal, bindi, bangles, comb, mirror, earrings, necklace, hairpins, and anklets.
3. Mustard oil, ghee, sesame oil
4. Silver or brass lamp
5. A chowki
6. Fresh flowers
7. Sweets
8. Few currency coins
Navaratri Pooja Kit
Navaratri pooja kit consists of a beautiful decorative metal thali with velvet or moti work. The Navaratri pooja kit contains around 28 pooja items to provide you with complete pooja items in one place. You buy Navaratri pooja kits from authentic Navaratri pooja kit manufacturers in India to celebrate the Navaratri pooja.
1. Matarani photo
2. Mata ki churni
3. Panchmeva
4. Kapur box
5. Incense stick box
6. Mauli roll
7. Laung packet
8. Kumkum packet
9. Decorative thali
10. Bindi
11. Lipstick
12. Perfume
13. Silk cloth
14. Nose ring
15. Toe ring
Process of Buying Navaratri Pooja Kit
Maximum Navaratri pooja kit contains around 30 pooja items to provide you with complete pooja items in one place to celebrate the festival Navaratri. Many trusted and preferred online stores offer Navaratri pooja items with the best quality pooja items, decorative essentials, and festival and unique occasion celebration materials.
If you choose authentic Navaratri pooja kit manufacturers you will get the product at an affordable price.
Significance of Buying Navaratri Pooja Kit
Many authentic online portals offer different types of Navaratri pooja kits at an affordable prices. The wholesale store offers various Indian pooja samagri kits, thali, diyas, incense, bhajan cd, and aarti books to perform the Navaratri ceremony.
You can find idols of Ganesha, Shiva, Lakshmi, Durga, and many others for decorating your pooja space. You can visit their online portals, where you can get different types of bronze, copper, or steel diyas per your requirement at an affordable price.
Try to visit several online portals to buy the best quality Navaratri pooja kit equipment at an affordable price. It will help you significantly in many aspects.